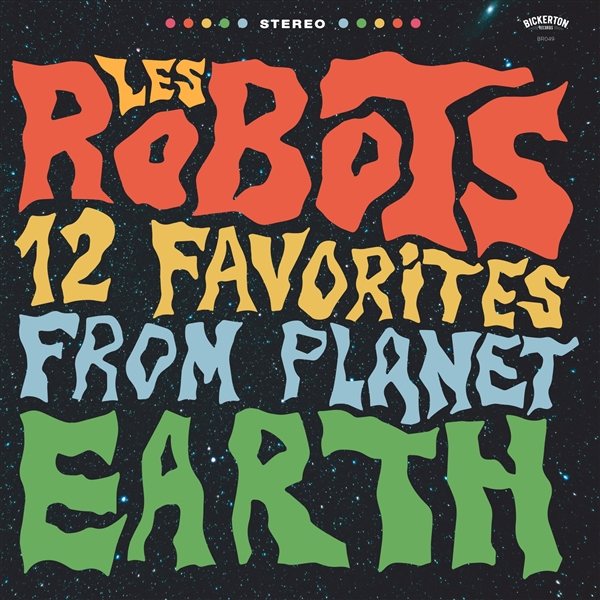 1 - ROBOTS, LES - 12 FAVORITES FROM PLANET EARTH - (LP)
BICKERTON

Most humans think of Les Robots as emotionless mechanical music machines. And that's how they largelysee themselves, but when our mechanical friends discovered the great beats of the 60s they - by lack of abetter word - 'felt' something. They started collecting the records which tickled their electronics and decidedto give their interpretation of their favourite sounds ever produced by human beings. Most of those favouritesareinstrumental acts like The Ventures, The Shadows, Terri Terauchi, Joe Meek, Man or Astroman?, Jean-Jacques Perrey, Tom Dissevelt, Raymond Scott, Link Wray and The Astronauts just to name a few. But nowfor the first time ever you will hear Les Robots SING!!! In their own way of course. They picked 12 of theirfavourite vocal songs from Planet Earth and gave it 'the mechanical treatment'. From the well-known soundsof The Fab Four and The Hollies to the more obscure beats of The Boys Blue and The Zakary Thaks, its allthere. Open your hearts and minds and let these rusty space basterds give you a taste of your ownmedicine!Hal 9000, August 2021File under; instro-rock,synth-surf, easy-listening-punk

TRACKLISTING: 01. Life 02. Stepping Stones 03. Live-o 04. Confrontation 05. Spaceships 06. The Love 07. Sunshine 08. Dont Let Go Feat Peter Liddle 09. Come This Far 10. The Wind 11. The Light 12. Didnt I?



Format: LP

Disc Quantity: 1
Date: 14-01-2022
Référence : 552491 EXP
Disponibilité: 2/3 SEMAINES

Prix : 14,00 EUR