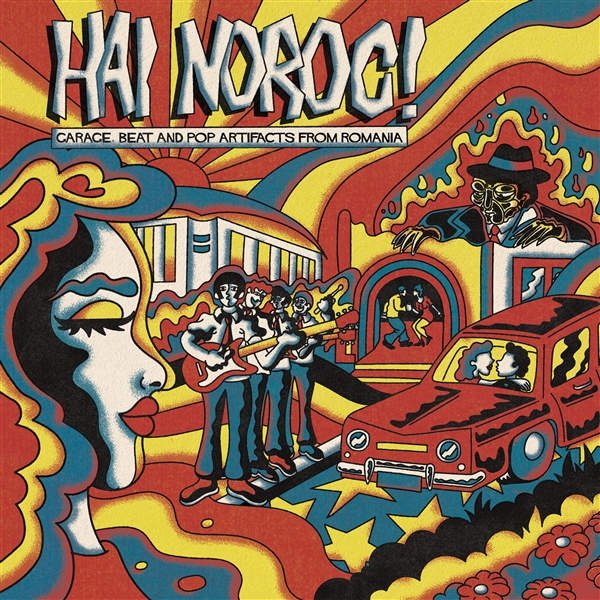 1 - VARIOUS - HAI NOROC! GARAGE, BEAT AND POP ARTIFACTS FROM ROMANIA - (LP)
667

The Romanian music scene in the early 60s was pretty grim if you were young and restless. Traditional music and soppy folk was the norm, but when in December 1961 kids in Bucharest got to see the film "The Young Ones" starring Cliff Richard and The Shadows, their eyes, ears and minds exploded with the seed of rock n roll. This gateway into the wild ways created a wave of bands who were eager to sink their teeth into any morsel of 60s culture from the West.Hai Noroc! is the first collection of Beat, Garage and Pop artefacts from Communist Romania. 16 hard to find cuts and previously unreleased tracks offer a glimpse of a youth gone wild in an oppressive Communist state. Stick it on, crank it up and dance the gray away!

TRACKLISTING: 01. Tracklist Side A: Sincron "haulita De La Gorj", Sideral "nori De Ploaie, Trio 02. Caban "sweet Lies" 03. Anca Agemolu "te Voi Iubi Pan-la Sfarsitu Lumi" 04. Mondial "de Va Veni La Tine Vantul" 05. Entuziastii "dynamite" 06. Sideral "cantec Pentru Tine" 07. Margareta Paslaru & Sincron "little Devil" 08. Phoenix "totusi Sunt Ca Voi" 09. Cometele "my Babe" 10. Ilinca Cerbacev "tu Esti Omul Potrivit" 11. Cvintetul Mamaia "judy In The Sky" 12. Sideral "pasarea Archaeopterix" 13. Sincron "morarul" 14. Savoy "povestea Lui Pacala" 15. Coral "trece Vremea"



Format: LP

Disc Quantity: 1
Date: 09-07-2021
Référence : 550047 NEW
Disponibilité: EN STOCK

Prix : 17,50 EUR