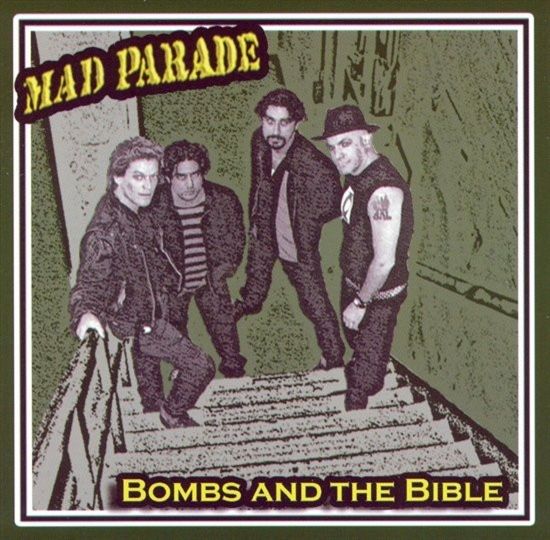 1 - MAD PARADE - BOMBS AND THE BIBLE - (LP)
LAST PUNK ROCKER

Originally on CD from Dr. Strange Records 2003, Bombs and the Bible finally makes it to vinyl for the first time on stunning emerald green vinyl. Opening track "FREAK SHOW" is a minute and a half of kick in your face punk rock. Following is the melodic street sounds of "COUNTDOWN" with loud guitars and plenty of harmonies. Ending Side A is the killer cover of the Boomtown Rats "I DON'T LIKE MONDAYS". "EYE IN THE SKY" which goes back to their socal punk roots. Includes one bonus track, the recently recorded "SKY IS FALLING", a chilling, haunting and melodic song that shows the growth of the band over the years.On Last Punk Rocker Records LPR-027 out of Germany, limited copies distributed the the States by Mad Parade's label Gutterwail Records (via Cobraside).

TRACKLISTING: 01. Freak Show 02. Countdown 03. A Thousand Words 04. Teenage Magazine 05. Murder In Manhattan 06. I Don't Like Mondays 07. Man Of Steel 08. Infamy 09. Eye In The Sky 10. Frightening 11. Prisoner 12. Shanty Town 13. Sky Is Falling

Les personnes qui ont commandé cet article ont aussi commandé FACE TO FACE, GAMEFACE, BORED!, ...

Format: LP

Disc Quantity: 1
Date: 07-08-2020
Référence : 542707
Disponibilité: EN STOCK

Prix : 18,25 EUR