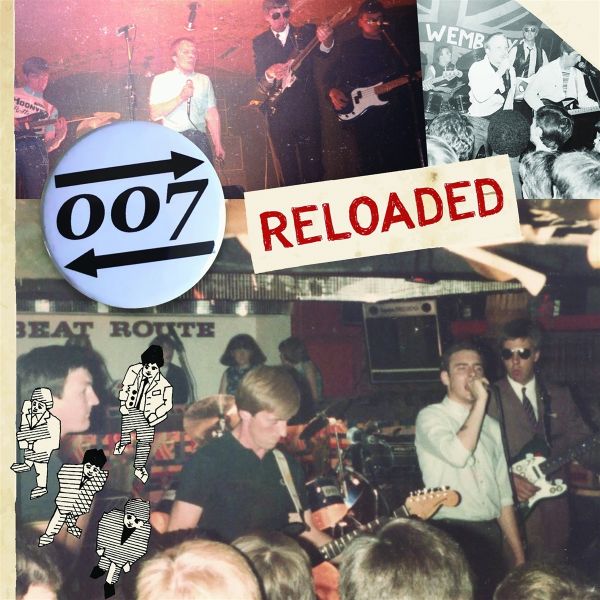 1 - 007 - RELOADED - (CD)
PAISLEY ARCHIVE

here you have all the known recordings of this long forgotten London mod band who picked up the baton in the early 80s when all the original '79 revivalists were all calling it a day as mod had burnt out. '007' alongside bands like 'Small World', 'The Variations', 'The Times', 'Flat 19' kept the flame alive but took mod back underground so that the press couldn't attack them anymore. The majority of these bands featured mods that were in the crowd of their previous counterparts and had become movers and shakers in their own rights. This new scene was flourishing, not as big as the '79 scene but they had a network and new venues and clubs were emerging every week. Alongside this new mod scene, it was also evolving as a neo psychedelic scene was also happening but that is another story even though the scenes did cross....007 were active between '81 - '83 and within these two years played approximately 54 live dates, the biggest was with supporting The Jam & Dolly Mixture at the Alexandra Palace, Woodgreen, London on the 'Trans Global Express' tour.So on this release we have salvaged 13 studio tracks and 9 live tracks that highlight this band.... All tracks have been restored the best we can from old cassette tapes that was found at the back of old chest of drawers from Olive Wood as sadly the master tapes are long lost in the midst of time..... enjoy

TRACKLISTING: 01. Come My Way 02. The Nearly Man 03. Reverb 2 + 2 04. I'm Standing Can You See Me? 05. Now I Know 06. Till The End Of The Day 07. Day That I Met You 08. Bitter About Love 09. Voice In The Crowd 10. Times Up 11. Cover Girl 12. Gimme Some Loving 13. How Much You Mean To Me 14. Rest Of Our Lives (live) 15. When I Needed You (live) 16. The Night Before (live) 17. Keep On Running (live) 18. Movement (live) 19. Play It Safe (live) 20. Im Not Your Stepping Stone (live) 21. Midnight Hour (live) 22. Do You Love Me? (live)

Les personnes qui ont commandé cet article ont aussi commandé BLANKZ, THE, SPOOKIES, THE, ANOMALYS, THE, GINO AND THE GOONS, ...

Format: CD

Disc Quantity: 1
Date: 05-10-2018
Référence : 519935
Disponibilité: EN STOCK

Prix : 13,75 EUR