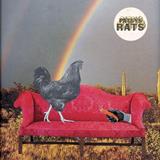 1 - PATSY'S RATS - ROUNDING UP - (7")
DIRTNAP

Dirtnap hasnt released a 7-inch in a few years, but this one was worth breaking the dry streak! Patsys Rats is Portland power (pop) couple Patsy Gelb and Christian Blunda (aka Billy Jeans from Mean Jeans). Rounding out the lineup is a revolving door of rhythm sections that compromises a whos-who of Portland bass-players and drummers. (On these recordings its Steve and Jon from Mope Grooves).

TRACKLISTING: 01. Rounding Up 02. Little Rat Charm

Les personnes qui ont commandé cet article ont aussi commandé ALOHA SLUTS, THE, COYOTE MEN, ZATOPEKS, SINGLES, THE, ...

Format: 7"

Disc Quantity: 1
Date: 11-08-2017
Référence : 506344
Disponibilité: 2/3 SEMAINES

Prix : 7,75 EUR
2 - PATSY'S RATS - SINGLES - (LP)
BACHELOR

This is not only a collection of singles, this is infact a perfect powerpop album you've been waiting since the Fastbacks and Busy Signals.

TRACKLISTING: 01. Rock N Roll Friend 02. Hard Time Karen 03. Its Gonna Hurt 04. Burnin Honey 05. Nowhere Close 06. More Than This 07. Rounding Up 08. Little Rat Charm 09. Is It Alright? 10. Givin Up 11. Lets Stay Up All Night 12. Empty Bottle



Format: LP

Disc Quantity: 1
Date: 05-08-2018
Référence : 515959
Disponibilité: EN STOCK

Prix : 20,00 EUR