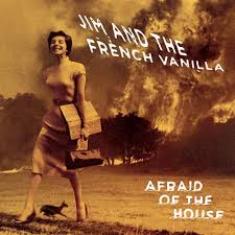 1 - JIM AND THE FRENCH VANILLA - AFRAID OF THE HOUSE - (LP)
DIRTNAP

Jim And The French Vanilla is the solo project of Jim Blahafrom The Blind Shake. This is his third album under this moniker, but the first to be made widely available - the first two came out on CDR-only and limited-to-100 vinyl, respectively. The first two albums were acoustic, one-man-band affairs, but on Afraid Of The House Jim (along with his brother/bandmate in Blind Shake Mike Blaha) expands to a full band sound, to astonishing effect. The basic songwriting retains the incredibly distinctive mystical, other-worldly atmosphere of The Blind Shake, but the instrumentation and sound are both stripped down to their essence, dialing way back on the loud-psych stamp of his main band. Raw, feral, but incredibly catchy, this album covers a wider sonic pallet than one might pick up on at first. From poppy to heavy, from atmospheric to wild, it reflects a wide range of ideas and emotion, while maintaining surprising consistence throughout.

TRACKLISTING: 01. When Youre Down 02. Im Just Sitting Here 03. Back Home 04. Take It To The Grave 05. Not Even War 06. Eye For An Eye 07. Grow Like Rabbits 08. Psychic Killer 09. I Have To Slow Down 10. Green Curtains 11. Lonely Man

Les personnes qui ont commandé cet article ont aussi commandé WAU Y LOS ARRRGHS!!!, SPITS, HELTA SKELTA, COMBO KOEDIJK, LOS, ...

Format: LP

Disc Quantity: 1
Date: 10-02-2017
Référence : 500091
Disponibilité: EN STOCK

Prix : 18,00 EUR