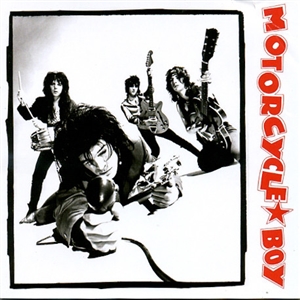 1 - MOTORCYCLE BOY - MOTORCYCLE BOY - (C+D)
NICKEL AND DIME

Motorcycle Boy was one of the heralded bands to come out of Los Angeles in the early 1990s.Their notorious live shows, led by the charismatic lead singer and bassist, Francois, made the group one of Hollywoods biggest buzz bands. Signed to Triple X Records in 1991, the band recorded what would be their only album, "Popsicle", produced by Sylvain Sylvain of the New York Dolls. The result of these recordings was a sound reminiscent to its producers legendary band and punk-era Stooges; pure trash infested punk rock and roll. With brilliant songwritingand its overall catchy tunes, "Popsicle" would eventually become an international classic.Completely remastered, "Motorcycle Boy" collects together the entire "Popsicle" album as well as 9 bonus tracks, including the rare fan favorites "I Hate the Sunset Strip" and the Ramones cover song "Loudmouth". Also included is a limited edition DVD which shows MB in all their live glory in 1993, a band rehearsal in 1990 and a still photo gallery with rare photos.

TRACKLISTING: 01. I Get Around 02. Cool You And Me 03. Feel It 04. Supersonic 05. Honolulu Baby 06. One Punch 07. Shak N Bones 08. Get Some 09. She Says 10. Come On 11. Suicide 12. Swamp Swamp 13. What I Want 14. Loudmouth 15. I Hate The Sunset Strip 16. Motor Star (demo) 17. Say To Me (demo) 18. Zoom (demo Never Released) 19. Kenny Toye 20. Shakin Finger 21. Feel It (original Version) 22. One Punch (original Version)

Les personnes qui ont commandé cet article ont aussi commandé SMALLTOWN, ...

Format: C+D

Disc Quantity: 2
Date: 15-12-2007
Référence : 404310
Disponibilité: EN STOCK

Prix : 21,25 EUR