1 - 45 ADAPTERS - DRESS WELL, DRINK HEAVILY - (7")
PIRATES PRESS

The band describes their music as a truck full of Otis Redding records crashing into a truck full of COCK SPARRER records. Even that description fails to truly cover the broad sweep of influences that can be heard in their music. Coming from deep roots in classic oi! and street rock, 45 ADAPTERS also bring smart mod sounds, nods to 60s soul and reggae, glam, pub rock and even hints of classic rock to the table. The end result is a truly unique sound combined with original subject matter in what can be a stagnant genre. 45 ADAPTERS have been lucky to share the stage with many notable lights of the streetpunk scene, including INFA RIOT, TEMPLARS, GUIDA, STOMPER 98 and THE BUSINESS. In addition, they play several shows a month in the NYC area with bands from genres as diverse as mod, ska, hardcore and garage.

TRACKLISTING: 01. Dress Well, Drink Heavily 02. Who Are We Kidding? 03. Fred Perry Fanatic

Les personnes qui ont commandé cet article ont aussi commandé HAWAIIANS, THE, MURDERBURGERS, THE, PERSONALITY CULT, PRIMITIVE FINKS, THE, ...

Format: 7"

Disc Quantity: 1
Date: 01-10-2013
Référence : 451718
Disponibilité: EN STOCK

Prix : 5,25 EUR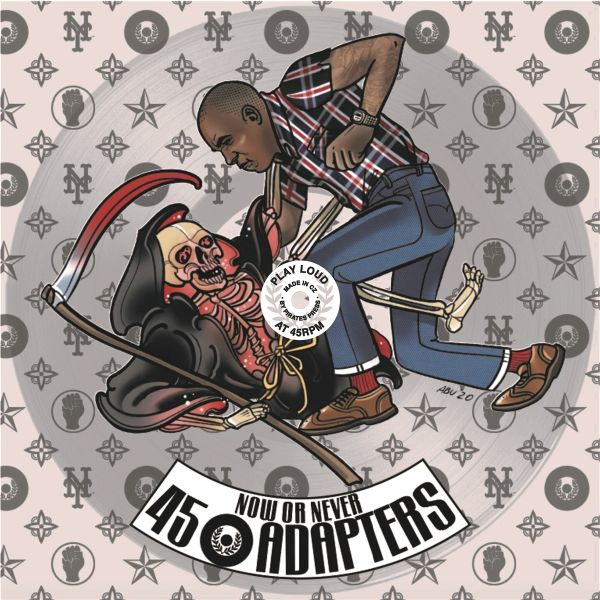 2 - 45 ADAPTERS - NOW OR NEVER (UVDP) - (12")
PIRATES PRESS

Coming out swinging, this beloved band delivers hitafter hit on this absolutely eye-catching 12" that lookslike it was printed on glass. The title track, a rip roaringaddition to the Pirates sampler "For Family And Flag" wet the whistle for fans across the globe... and the remaining tracks stacked up on this incredible EP raucously complete the package!

TRACKLISTING: 01. Now Or Never 02. Friendship 03. Ready Blood 04. Lets Play 05. Shabby 06. Broken Men



Format: 12"

Disc Quantity: 1
Date: 05-02-2021
Référence : 546595 NEW
Disponibilité: 2/3 SEMAINES

Prix : 13,25 EUR