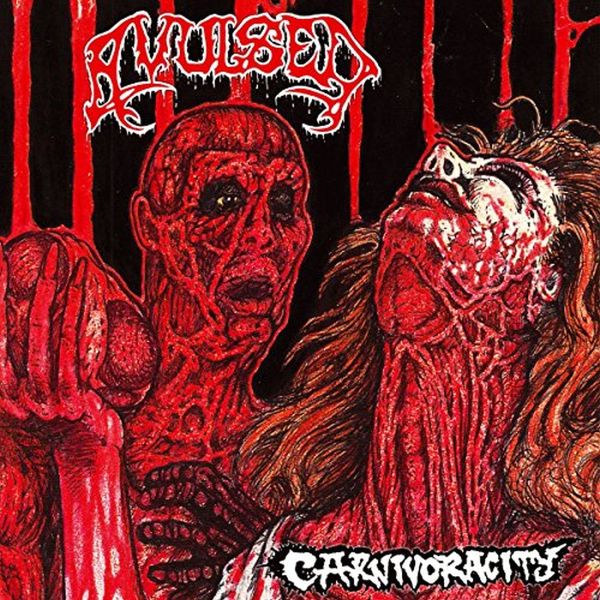 1 - AVULSED - CARNIVORACITY - (CD)
MDD

Original released as 7" this was the first official statement done by spanish AVULSED. This band is without anydiscussion the one with most influence, most active and the most well-known Underground-Death-Metal-Actworldwide. To honour the 20 years this is the official Re-Release of the three legendary tackls plus threeCover-Versions and some Live-Smasher from the glorious days of Death-Metal.A lot of years this cult release was not available and the true Death-Metal lunatics worldwide wait for this one sinceages... Like as lions get fed. So make sure your knife is sharp and enjoy this Death-Metal-Cult...!!!

TRACKLISTING: 01. Carnivoracity 02. Cradle Of Bones 03. Demonic Possession 04. Morgue Defilement 05. Bodily Ransack 06. As I Behold I Despise 07. Gangrened Divine Stigma 08. Cradle Of Bones (live) 09. Deformed Beyond Belief 10. Carnivoracity (live) 11. Matando Gueros 12. Outro - M.c.e.d.



Format: CD

Disc Quantity: 1
Date: 26-09-2014
Référence : 468070
Disponibilité: EN STOCK

Prix : 14,75 EUR
2 - AVULSED - RITUAL ZOMBI - (CD)
MDD

AVULSED is without any doubt the most veteran and constant band in the Spanish extreme Metal scene since itsinception in August '91.In 2011, AVULSED performed some killer shows at such renowned festivals as Maryland Deahfest (USA), Way ofDarkness (Germany), Killtown Deathfest (Denmark) and Altavoz (Colombia). However, 2012 didn't start too well for theband, which immersed in writing process for a new album, had to take the difficult decision of parting way with theirdrummer Riky. Just one month later, Osckar joined the band as the new drummer and AVULSED continued working,harder than ever, writing new material to complete the band's 6th full length album "Ritual Zombi" which was recordedduring the first half of 2013 and being released in September 1st on a never-seen-before orchestrated simultaneousrelease in 10 different releases (7on CD, one on 12"LP, one on cassette and digital) on 9 different labels around theworld.The story continues for AVULSED after 22 years of non-stopping devotion to something of what the band has alreadybecome a synonym: Death Metal!!

TRACKLISTING: 01. Dawn Of Apocalypse (intro) 02. Dead Flesh Awakened 03. Z-hunter 04. ...was Not My Blood 05. Horrified By Repulsion 06. Zompiro 07. Elegy For The Rotting (interlude) 08. Unborn Of The Undead 09. Brainsuck 10. Zombie Ritual 11. Cannivegan Corpse 12. Cult Of The Living Dead 13. Devoured And Forgotten (outro)



Format: CD

Disc Quantity: 1
Date: 04-10-2013
Référence : 449805
Disponibilité: EN STOCK

Prix : 14,75 EUR