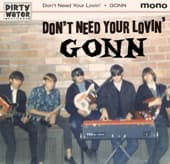 1 - GONN - DON'T NEED YOUR LOVIN' - (7")
DIRTY WATER

Gonn only had one solitary single released back in the mid-1960s - an amazing song called Blackout of Gretely, on the local Emir label. This was later re-issued on one of the long-running volumes in the Pebbles series, making the band more famous than they ever were whilst they were still together. Another self-penned song, Doin Me In, was scheduled to be their second single. However, their performance was just too unhinged for their times and the release was shelved. The song later appeared on the Nuggets CD box set. Dont Need Your Lovin was recorded during this same period, late 1966. Though most well known by the Chocolate Watch Band, through their live performance in the film Riot on Sunset Strip, this version could have been produced by no one else other than GONN - its teen garage punk with everything turned up to 10. One of the toughest garage bands of their time, with manic screams, raw, throat-shredding vocals, fuzzed-out guitar, out-of-control echo and crazed lyrics, no one else could come close to the intensity of these kids.

Les personnes qui ont commandé cet article ont aussi commandé TRYPT UP, THE, MOTHER ISLAND, REVELLIONS, THE, STEREOPHONIC SPACE SOUND UNLIMITED, ...

Format: 7"

Disc Quantity: 1
Date: 13-07-2009
Référence : 398763
Disponibilité: 2/3 SEMAINES

Prix : 8,25 EUR