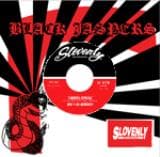 1 - BLACK JASPERS - BORN IN '77 - (7")
SLOVENLY

The Black Jaspers, featuring King Khan (The King Khan & BBQ Show, Shrines, etc.) and Jasper Hood (Moorat Fingers), have blessed Slovenly Recordings with two fat lines of nose-bleed punk for a solid single of blown-out sickness! We'll boldly say that these two songs are even more brutal than the versions released on last year's self titled In The Red LP, as they were re-recorded in 2008 with increased fidelity and maximum beef. They even went so far as to add a third member, John Boy Adonis, on drums for this historic session! "Born in '77" (an autobiographical ode to Killed By Death-isms), b/w "I Can't Stand The Summer" both deliver a heaping key bump to the brain with enough racket to make your speakers crumble into a pile of powder, so don't even think about weaseling your way outta getting this one!

Les personnes qui ont commandé cet article ont aussi commandé DEAD MOON, ATTAK, ULTRA VIOLENT, SPITS, ...

Format: 7"

Disc Quantity: 1
Date: 15-01-2011
Référence : 414476
Disponibilité: EN STOCK

Prix : 7,75 EUR