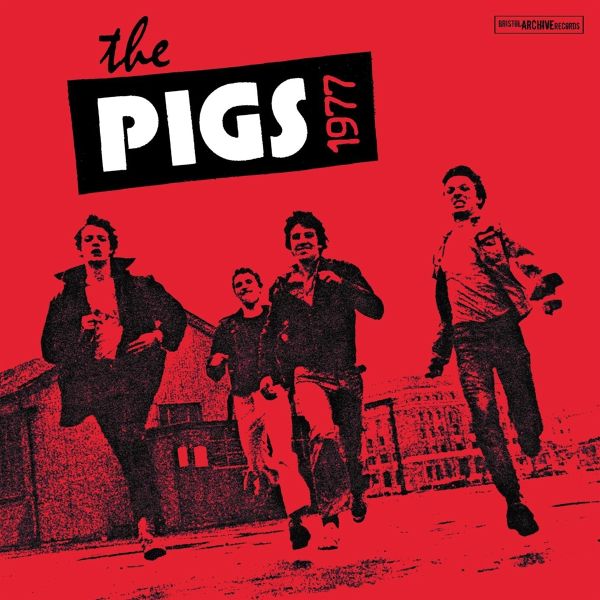 1 - PIGS - 1977 - (CD)
BRISTOL ARCHIVE

Released on CD for the first time. "When we finally got to see The Cortinas at the Granary - up till then we had them down as more of the Feelgood thing - wow we really got the message!! And that's what did it. It was so energizing, it felt like we had to get our band started the next day, the same night probably. The Punk train came and we all jumped on it, like a lot of people did, but we were the first ones on in Bristol, after The Cortinas." - Kit Gould, The Pigs.New Bristol Records was set up after the band supported Generation X at Chutes, where they met Miles Copeland. "We decided to set it up, it was our idea, with Vernon and John (their managers), and he just went along with it", says Kit. "Now, looking back, it's obvious that if Miles Copeland's going to pay for you to do a recording, he's not just donating it to you, so you can set up your own label, whereas at the time that seemed like an entirely realistic proposition. It's just naïve kids really that don't have a clue about the music business. Miles Copeland came on board, he was our London connection." The band went into Sound Conception Studio on 12 August 1977 and recorded their whole set, from which four tracks were selected for the 'Youthanasia' EP. It gained airplay on John Peel's show and sales were reasonable, but it proved to be their only release. They continued to gig regularly, including two more shows with The Cortinas, a support slot with Siouxsie and the Banshees at Barton Hill Youth Club, and even a headliner at the legendary (but by that time sadly ailing), Roxy, on 13 January 1978 with Open Sore and The Heat, but they called it a day the following March. And now we are proud to give you, for the first time, all eleven tracks that the band recorded at Sound Conception.

Les personnes qui ont commandé cet article ont aussi commandé REALLY RED, OUTSIDERS (UK), THE, CRASH, THE, ...

Format: CD

Disc Quantity: 1
Date: 18-11-2018
Référence : 521647
Disponibilité: EN STOCK

Prix : 13,75 EUR