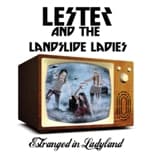 1 - LESTER AND THE LANDSLIDE LADIES - ESTRANGED IN LADYLAND - (LP)
TORNADO RIDE

These eternal losers give you love, hate, pain, blood, power! For fans of The Ramones, D.A.D., Kiss, AC/DC, Hanoi Rocks, Bowie, Cult, N.Y. Dolls.

Les personnes qui ont commandé cet article ont aussi commandé JUKEBOX ZEROS, MARTINETS, THE, MIND SPIDERS, ...

Format: LP

Disc Quantity: 1
Date: 15-09-2010
Référence : 409556
Disponibilité: EN STOCK

Prix : 13,00 EUR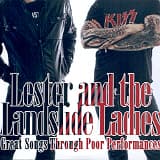 2 - LESTER AND THE LANDSLIDE LADIES - GREAT SONGS THROUGH POOR PERFORMANC - (CD)
TORNADO RIDE

Unplugged/acoustic, guitar/vocals side project of Lester and Vinn. Some of the best songs on the planet reworked acousticly. Fucking great 12 tracks recorded with passion and raw vocals.



Format: CD

Disc Quantity: 1
Date: 15-09-2010
Référence : 408865
Disponibilité: EN STOCK

Prix : 6,75 EUR