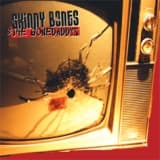 1 - BONES, SKINNY -& THE GONEDADDYS- - SHOT MY TV - (LP)
TORNADO RIDE

Written /recorded and produced by Skinny Bones, Shot My TV marks the return of this young new york punk rock veteran whose songwriting and guitar playing skills have already marked a couple of generations of music fans around the world. Skinny Bones co-wrote and recorded several songs with Dee Dee before teaming up with Marky Ramone , co-writing The Job That Ate My Brain and Anxiety for the Ramones album Mondo Bizarro in 1992.A few years later the two of them co-wrote Have A Nice Day for Adios Amigos, the final Ramones album before fronting Markys solo band the Intruders. In the meantime, Skinny had also formed a partnership with Joey Ramone with whom he played in the band Resistance. Joey and Skinny played and recorded together until Joeys tragic death. Shot My TV features 12 new tracks which will please any punk rock fan around the world. Think Johnny Thunders, Stiv Bators, Ramones, and good old 50s rocknroll. The CD also features a bonus track co-written with Dee Dee Ramone. Far from the usual self-important musician attitude, Skinny Bones gives all the wannabes, copycats and tattooed posers a good lesson in humility with a really cool, fun, witty and nicely crafted album. A must have, and certainly a very refreshing alternative to the soul-less gutless, overproduced nonsense which is shoved down our throats on a daily basis. Tracklist : 1.The Shakes 2.Shes Working Me Over 3.On The Roof 4.Shit In My Head 5.How To Be A Punk 6.Lantern Light 7.Luv Me Like Darth Vader 8.I Wanna Pet Cats For A Living 9.Last Time 10.Time Wont Let Me Wait 11.Telephone 12.Big Hotel 13.Nothing Is Innocent (Bonus Track)

Les personnes qui ont commandé cet article ont aussi commandé CLEOPATRAS, THE, DOME LA MUERTE AND THE DIGGERS, LAST KILLERS, THE, PROTRUDI, LINK -& THE JAYMEN-, ...

Format: LP

Disc Quantity: 1
Date: 15-04-2010
Référence : 405352
Disponibilité: EN STOCK

Prix : 15,00 EUR