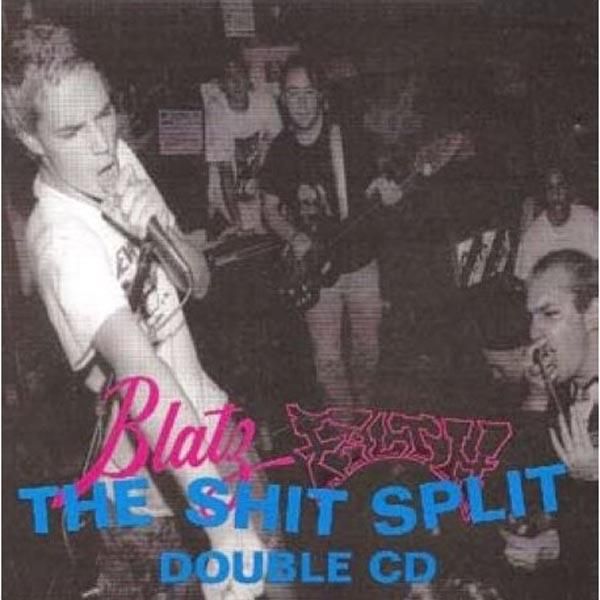 1 - BLATZ/FILTH - SHIT SPLIT - (CD)
ALTERNATIVE TENTACLES

Originally released in 1991 by Lookout! Records, the Shit Splitreached many a punk rocker, inspiring a legion of kids to fuckshit up! And now, after being unavailable for 18 months, thisclassic is back in print thanks to the granddaddy of all US punk labels, Alternative Tentacles. Blatz and Filth exploded out of the East Bay scene at 924 Gilman Street, home to Operation Ivy, Green Day, Crimpshrine, Rancid, Jawbreaker, and hundreds more. Blatz (featuring past and future members of The Grups, The Criminals, Dead and Gone, and Subincision) took a raucous, slightly more melodic sound mashed with hair-raising female/male vocals, while Filth (formed out of the ashes of Isocracy, The Vagrants, and Crimpshrine) featured razor-gargling vocals over super punk guitars. Both bands lived the life of chaos and disorder, getting arrested for nakedness or being assaulted by brick-wielding suburban tweakers. Somehow, in the studio, the two groups harnessed the destructive power of their live shows (and lives), producing a classic slab of pure East Bay punk fucking rock! This doubel CD version features the complete discography of both bands. CD

TRACKLISTING: 01. Blatz - Fuk Shit Up 02. Blatz - Fuk New York 03. Blatz - Lullabye 04. Blatz - Blatz To The Future 05. Blatz - Hustler 06. Blatz - Homemade Speed 07. Blatz - Lullabye/chuck 08. Blatz - Berkeley Is My Baby (and I Wanna Kill It) 09. Blatz - Cockroach Cafe 10. Blatz - California 11. Blatz - Dolly 12. Blatz - I Dont Care About You 13. Blatz - Fuk Shit Up 14. Blatz - Learning How To Smile 15. Blatz - Roadkill 16. Blatz - Nausea 17. Blatz - Ww3 & Live/demo Soundcollage DISC #2: 01. Filth - Todays Lesson 02. Filth - Lust For Glory 03. Filth - Hate 04. Filth - Freedom 05. Filth - The List 06. Filth - You Are Shit 07. Filth - Night Of Rage 08. Filth - Filth 09. Filth - Violence As A Solution 10. Filth - Scarred For Life 11. Filth - Banned From The Pubs 12. Filth - Buttshits 13. Filth - Dear Fuck 14. Filth - 1990 Demo Tape

Les personnes qui ont commandé cet article ont aussi commandé BLOODHAG, DASH RIP ROCK, DISASTER STRIKES, FLESHIES, ...

Format: CD

Disc Quantity: 2
Date: 28-10-2008
Référence : 307545
Disponibilité: 2/3 SEMAINES

Prix : 12,75 EUR