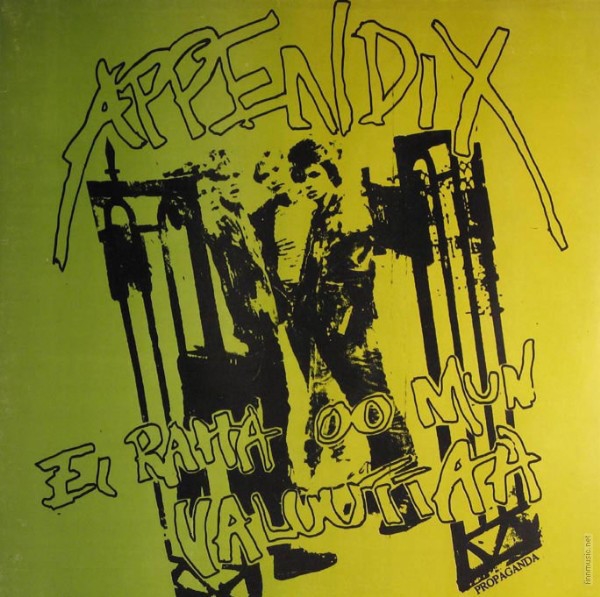 1 - APPENDIX - EI RAHA OO MUN VALUUTAA - (LP) CHANGEMENT
PUKE N VOMIT

Vinyl reissue of their 1982 debut album. Finnish Hardcore Punk rarely gets any better than this. We are talking blistering dark edged punk, equally influenced by British DBeat Hardcore bands such as Discharge and American bands such as the Germs. The record is full of great guitar licks and catchy songs, always with a hint of melody in the songs and still doing it with all the intensity and ferocity of 80s Hardcore. The LP will be reissued with the original Propaganda Records artwork and posters

TRACKLISTING: 01. Kuitenkin Kuolemme 02. Raiskaus 03. Paniikkia 04. Noyrat Nuolee 05. Itsemurha 06. Kateus 07. Juoskaa, Kuolkaa 08. Sukupuolettomat 09. Ei Raha Oo Mun Valuuttaa 10. Papit 11. Elama Valuu Viemariin 12. Sade 13. Torakat 14. Kytan Unelma 15. Mielisairas 16. Ai?...



Format: LP

Disc Quantity: 1
Date: 05-08-2022
Référence : 557668
Disponibilité: EN STOCK

Prix : 21,00 EUR
2 - APPENDIX - TOP OF THE POPS - (LP)
PUKE N VOMIT

Vinyl reissue of their 1984 second album. Finnish Hardcore Punk legends. Taking off from where their debut left off, we are talking kore blistering dark edged punk, The record is full of fifteen fantastic catchy melodic songs, most clocking in under two minutes. Taking things, a bit further the faster hardcore songs alternate with slower songs and there are even some post punk influences starting to creep into their distinct sound.

TRACKLISTING: 01. Too Late 02. History! 03. I'm Scared 04. Buy Your Own Peace 05. Circle 1 06. The Clock-card 07. A Man 08. Parock 09. The Fairy-tale Of The Night 10. Circle 2 11. My Own Car 12. Unfavourable 13. An Ass Licker 14. Why Don't The Police Laugh 15. A Harlot



Format: LP

Disc Quantity: 1
Date: 01-07-2022
Référence : 555262
Disponibilité: EN STOCK

Prix : 21,00 EUR