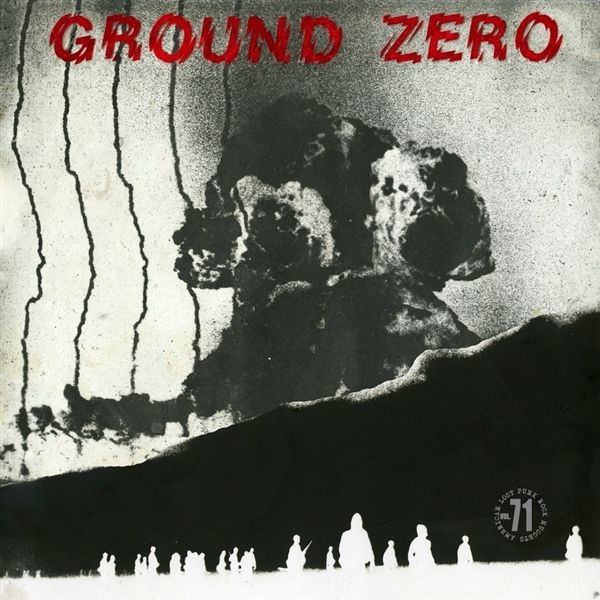 1 - GROUND ZERO - GROUND ZERO - (LP)
RAVE UP

Ground Zero was more than a band; it was a group of outcast musicians and visual artists hailing from Ohio,Maine, West Virginia, Rhode Island, Massachusetts, and places in between. In 1978, in the dirty bowels ofBostons South End, this group of renegades rented some of the run-down and abandoned industrial loftspaces on Thayer Street and began an alternative art movement that would challenge the established artand music "culture" of the city. The group recorded a 45 rpm, "Ground Zero", in 1979 and a follow-up 33 rpm, 7" EP, "Born to be Bombed",in 1980. A rarely seen, full length video/film project, entitled "Televoid", was produced in 1980 and can still befound on YouTube. With the Cold War and Atomic Fever raging and Ronald Reagan kicking mental patientsinto the streets of Amerika for the sake of the wealthy, these children of the 50s and 60s screamed into theface of the unrelenting insanity. It wasnt always pretty and some of us burned out all too quickly, but it was asensational and always intense fight. The more things change, the more they stay the same......Half LifeLives!

Les personnes qui ont commandé cet article ont aussi commandé AUTISTIC YOUTH, NIGHTMARE BOYZZZ, RADIOACTIVITY, WOLLARD, CHRIS -& THE SHIP THIEVES-, ...

Format: LP

Disc Quantity: 1
Date: 20-10-2013
Référence : 450383
Disponibilité: EN STOCK

Prix : 18,75 EUR