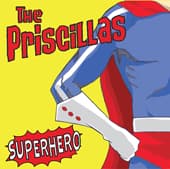 1 - PRISCILLAS - SUPERHERO - (7")
DIRTY WATER

The UKs top all-girl punk group, the Priscillas are a glamorous mess of lipstick, cheeky winks, broken guitar strings, big hair and impeccable eye make up - and in two short years they havecarved themselves an awesome live reputation. Their shows leave audiences with huge grins, humming their catchier-than-flu tunes. Jenny, Guri, Kate and Hege have honed their shows intoproper events. They're not just the best all-girl band in the UK, but among the best bands in the country full stop. They make music to make the heart soar, the feet tap, and the jaw drop. On the cusp of rocknroll, punk and pop, they balance perfectly sweet tunes, sarky attitude, and romper stomping beats.

Les personnes qui ont commandé cet article ont aussi commandé COME ONS, FLAMING SIDEBURNS, HILLYARD, DAVE -& THE ROCKSTEADY 7-, ELECTRIC FRANKENSTEIN, ...

Format: 7"

Disc Quantity: 1
Date: 20-08-2007
Référence : 372091
Disponibilité: EN STOCK

Prix : 8,25 EUR