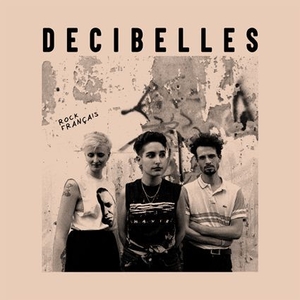 1 - DECIBELLES - ROCK FRANCAIS - (LP)
TAKEN BY SURPRISE

DECIBELLES is a group from Lyon, France, created in 2006 by Sabrina Duval and Fanny Bouland, and joined a few years later by Guillaume Carle. A visceral sound, captivating music that detonates an explosion of dB, a sound shock engulfing you in a wave of DECIBELLES. Rock Franais is a sulphurous album out of the foundation of Steve Albinis temple, the last big factory of indie-rock and final bastion of the analog in Chicago, the Electrical Audio Studio. A 100% French Album produced in Chicago. More than just a production, ROCK FRANCAIS is an authentic album by its interpretation and its old school production, making sense on the analog tapes of the Chicagoan studio. "So these are more spontaneous, more lively pieces that didnt ask for a lot of work in post-production. We wanted to be real, to be closer to reality in what is complex and ambiguous, to accept that live music, that it accelerates, that it slows down, in short that it is made by humans and not by machines. The sound is raw, with more noise but without useless ornaments. There are songs that groove, others that are more incisive. Songs that takes their time, and others more immediate." -Fanny This record is released under license from Deaf Rock Records, the first pressing is 200 copies in limited screen printed sleeves.

TRACKLISTING: 01. Noyee Dans L'ocean 02. Des Gens Qui Tombent 03. Derailler 04. Manger Son Ex 05. J'aime Trop Mon Clito 06. Dimanche 07. Qu'est-ce T'as 08. Mauvaise Plastique 09. Spm 10. Je Suis Seule

Les personnes qui ont commandé cet article ont aussi commandé JET REACTIONS, LULLIES, LES, FOREST POOKY, ...

Format: LP

Disc Quantity: 1
Date: 31-05-2019
Référence : 533720
Disponibilité: EN STOCK

Prix : 22,25 EUR