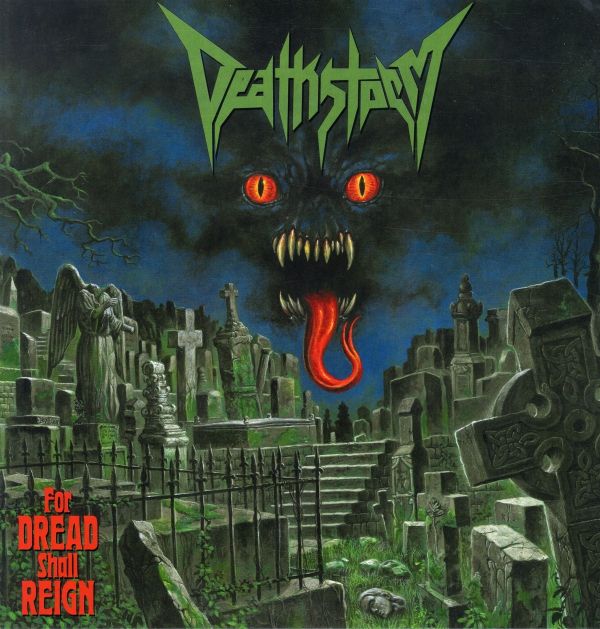 1 - DEATHSTORM - FOR DREAD SHALL REIGN - (LP)
DYING VICTIMS

A veritable institution by now, DEATHSTORM have been flying the flag of hate for a decade now, releasing albums on such well-regarded labels as I Hate and High Roller. DEATHSTORM delivered a swift n sweet EP for DYING VICTIMS titled The Gallows in 2015, and now the power-trio return to the label for their most intense and varied recording yet, For Dread Shall Reign.Without doubt, the spectre of classic Kreator looms large over DEATHSTORM still - and why should it not, when youre doing deathtrash this devastating? - but with For Dread Shall Reign, the band bring forth a whole host of equally classic contours. From very old Metallica to equally old Slayer on to 80s Death and especially Demolition Hammer, DEATHSTORM here hammer out riffs, riffs, RIFFS! But, unlike so much thrash that haphazardly seeks to simply catalog riffs in disservice of the song, these Austrian veterans thread their enviable arsenal into hard-charging, headbanging juggernauts of immediately memorable metal-mania manna.

TRACKLISTING: 01. Unforgotten Wounds 03:23 02. Blades Of Delusion 03:39 03. Bloodlusted 03:58 04. Ripping And Tearing 04:03 05. Sulphuric Scents 04:49 06. The Mourning 01:24 07. Funereal Depths 03:15 08. Toxic Devotion 04:53 09. Stygian Black 03:13 10. Human Individual Metamorphosis 05:30

Les personnes qui ont commandé cet article ont aussi commandé BLUTENGEL, SOMBRE PRINTEMPS, DARK PRINCESS, GUTS, ...

Format: LP

Disc Quantity: 1
Date: 10-08-2020
Référence : 542739
Disponibilité: EN STOCK

Prix : 23,25 EUR