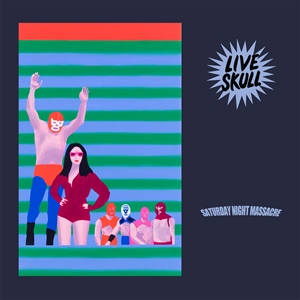 1 - LIVE SKULL - SATURDAY NIGHT MASSACRE - (LP)
BRONSON

The New York no-wave psychos are back! Live Skull exploited theimagery of gore movies to express their disillusion with societys turn toward darkness; now the facts are gory enough on their own. The reanimated crypt of Live Skull spawns a new brood of cheerful tunes sure to make your blood boil again!The latest in Live Skulls continuing saga of depravity and redemption: "Saturday Night Massacre".

TRACKLISTING: 01. Saturday Night Massacre 03:41" 02. Nova Police 02:51" 03. Up Against The Wall 04:16" 04. Memory Time-slip 05:26" 05. Identical Skies 04:33" 06. Details Of The Madness 03:50" 07. Shadow War Composer 04:26" 08. Never Kill A Client 03:34" 09. Midnight Zone 04:57" 10. The Date 04:17"



Format: LP

Disc Quantity: 1
Date: 08-11-2019
Référence : 537162
Disponibilité: EN STOCK

Prix : 27,25 EUR