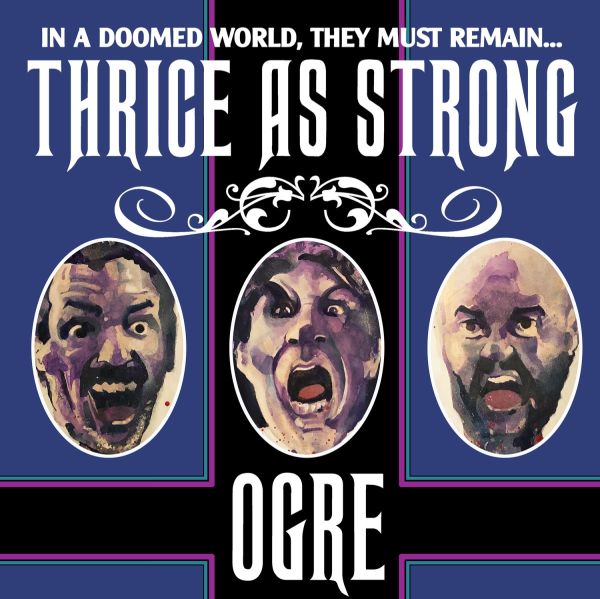 1 - OGRE - THRICE AS STRONG - (LP)
CRUZ DEL SUR

Potent, classic doom metal from the northeastern corner of the United States! On Thrice as Strong, Portland, Maine trio Ogre deliver a time-honored display of old-school doom with '70s rock elements that scale epic heights and heavy lows. Tucked away in the most northeastern part of the United States in Maine, the members of Ogre have taken on the resilient nature of the place they call home. Upon their 1999 formation, the trio of Ed Cunningham (bass/vocals), Ross Markonish (guitar) and Will Broadbent (drums) penned "Age of Ice," a rallying cry and anthem reflective of Maine life. The song exemplifies the Ogre live experience - their shows often require attendees to trudge through piles of snow just to get there - conjuring up a unifying spirit when the first doom-edged guitar chords are hit. The bands embrace of all things Maine has carried them through their existence, all the while helping them forge a path as a doom outfit unwilling to bend to convention. It shines through on their fifth full-length and first for Cruz Del Sur Music, Thrice as Strong. Tracked with Rowan Bishop at Garage Mahal Recording in Westbrook, Maine, Thrice as Strong is a collection of time-honored doom mixed with classic metal, roping in obscure 70s rock to top it all off. The Thrice as Strong album title comes from their namesake song "Ogre," which is found on their Dawn of the Proto-Man debut. Given that the song is written about the last living Neanderthal, Broadbent zeroed in on the line "thrice as strong" and proposed it as the title as a summation of the way Ogre has endured for the past 20 years. Furthermore, it hits upon the fact that, according to Markonish, "if its not a trio, then its not Ogre at all!"

TRACKLISTING: 01. The Future 02. Hive Mind 03. Big Man 04. Judgement Day 05. Blood Of Winter 06. King Of The Wood 07. Cyber-czar

Les personnes qui ont commandé cet article ont aussi commandé ORODRUIN, ...

Format: LP

Disc Quantity: 1
Date: 25-10-2019
Référence : 535573
Disponibilité: EN STOCK

Prix : 23,25 EUR