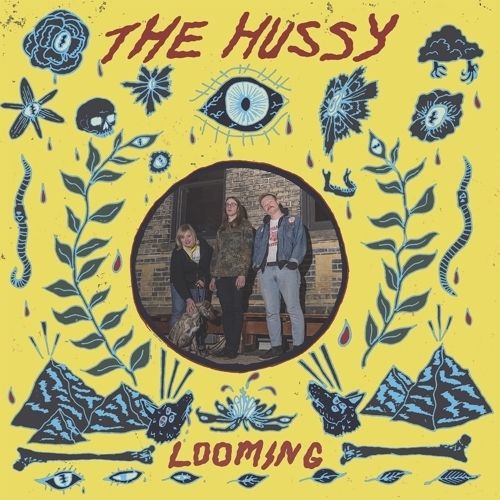 1 - HUSSY, THE - LOOMING - (LP)
DIRTNAP

At the end of 2018 The Hussy started tracking their new LP, Looming. Their last album saw the band move into a more focused direction with earnest mid-fi production and added arrangements, while still keeping true to the bands knack for writing consistently catchy pop morsels. This album takes the band in a decidedly dismal and defiantly dark direction. It tackles topics such as death, sudden loss, divorce, addiction and these politically depressing times. The record is sixteen tracks of trash-pop that run the entire gamut of punk-rock-n-roll. There are spacey leads, heavy sonics, slicing rhythms and generally gnarly sounds all tucked beneath The Hussys patented blanket of hook. This is the "new" heavier three-piece version of The Hussy, but the band hasnt lost any of its knack for a sugar sweet melodies.Midwest trash-punk band with long storied career returns

TRACKLISTING: 01. Coast 02. Have To Hide 03. Down In The Dirt 04. No Credit 05. Sorry 06. Tower 07. Better Stuff 08. Hung Up (circle) 09. Tyler's Jazz Odyssey 10. Ode To Self 11. Erase/her 12. Cornflakes 13. History Lesson - Part Iii 14. Be My Girl 15. That's The Way It Is (it Is) 16. Rewind

Les personnes qui ont commandé cet article ont aussi commandé LAGWAGON, FREEZ, CLOWNS, ...

Format: LP

Disc Quantity: 1
Date: 27-09-2019
Référence : 535139
Disponibilité: EN STOCK

Prix : 20,25 EUR