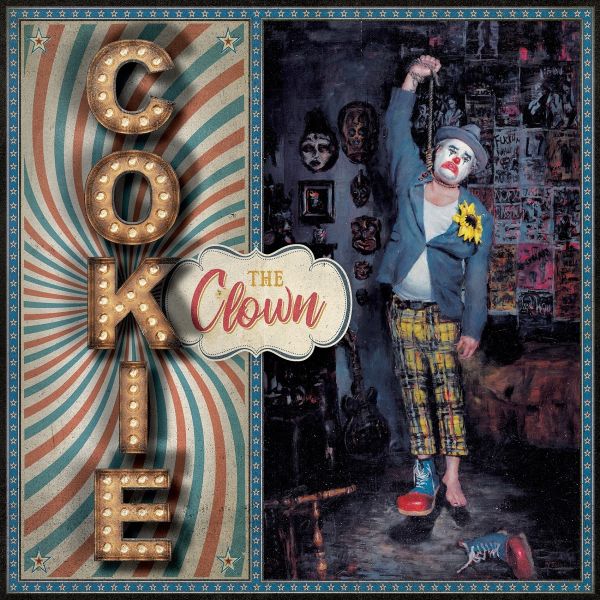 1 - COKIE THE CLOWN - YOU'RE WELCOME - (LP)
FAT WRECK CHORDS

FAT MIKE, the infamous front-man from the most successful independent punk rock band in the world, has never been one to mince words. NOFX fans have come to expect a certain filter level (or lack there-of) when it comes to what travels through Mikes brain and out his mouth. From the opening track "Bathtub" - a candid story about Fat Mike waking to find his wife overdosed and drowning in a hotel room bathtub, to "Swing and a Miss" - the all-too-real story of the time Mikes friend and roommate killed himself; and album closer "Punk Rock Saved My Life" - a poignant autobiographical account of how Mike got to where he is today through punk rock. The release of COKIE's debut album! You're Welcome is a 10-song 38-minuite quest into the darkest depths of Fattys psyche. As Fat Mike puts it, "I peeled my fucking skin off for this record." But he didnt have to do it alone. You're Welcome's liner notes read like a who's who of A-list rock talent. Produced by Danny Lohner (Nine Inch Nails), Drums by Travis Barker (Blink-182), and keyboards by Dizzy Reed (Guns N Roses) to name a few. Musically, You're Welcome is compelling and dynamic, with haunting vocal melodies laid atop string sections and elaborate piano parts. Lyrically, it is designed to make the listener squirm in their seat. Fat Mike is determined to speak his truth on Youre Welcome, no matter how ugly it may get.

TRACKLISTING: 01. Bathtub 02. Fair Leather Friends 03. The Queen Is Dead 04. Swing And A Miss 05. Down With The Ship 06. Negative Reel 07. That Time I Killed My Mom 08. Fuck You All 09. Pre Arraigned Marriage 10. Punk Rock Saved My Life

Les personnes qui ont commandé cet article ont aussi commandé GOOD RIDDANCE, AGGROLITES, THE, ...

Format: LP

Disc Quantity: 1
Date: 29-04-2019
Référence : 525639
Disponibilité: EN STOCK

Prix : 16,75 EUR