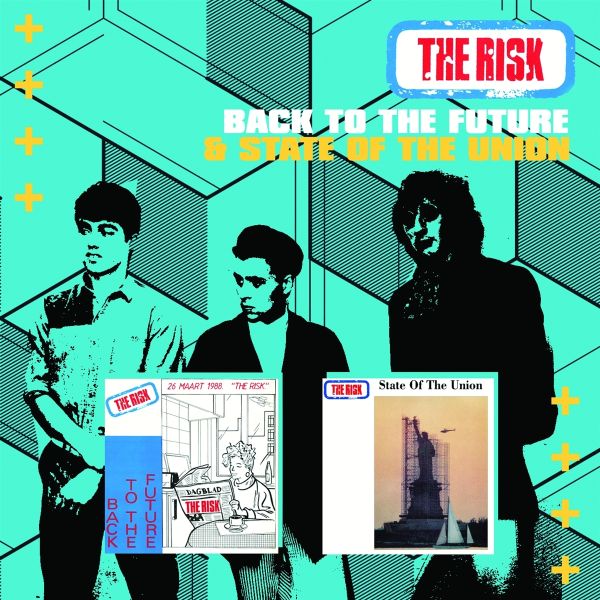 1 - RISK, THE - BACK TO THE FUTURE/STATE OF THE UNION - (CD)
PAISLEY ARCHIVE

We go back to the late 80s for Guernseys finest Mod power pop band "The Risk". There last recordings of the decade are gracing the CD format for the very 1st time. Back to the future was a 1988 unicorn compilation featuring various tracks from Mark le Gallez solo album Mark one which he did with Colin Leach later a big part of the band. The Risks debut studio LP Loud shirts and stripes and also the fab Psyched out 45 Forget the girl c/w Know the truth. A new version of Good times from An invitation to blues LP and also features along with Contributions from The Cutting Edge Mod compilation LP, Nice people and Jobs for the boys taken off Unicorns phase 3 Mod compilation 7" ep.Two tracks were donated for my Modzine "In the Crowd" flexi discs, in the shape of the fantastic R&B stomper Maxine and Ambition and last but not least you get Dont let go which is the only track not to of featured on any other release.The 1989 12" State of the union was released while the band enjoyed a short stay in Bristol, and what a classic, showing off the bands maturing song writing ability to the full, not only does it stand the test of time, but is even more relevant today than ever with the current Trump fiasco going in the States right now!.To finish the album you also get the two excellent tracks, Amount to love and Listen to me for the 1st time on CD.The Risks story does not stop there; the boys have resurfaced a number of times over the years, to play at various e019vents their most recent at the 2018 Guernsey Scooter rally.They released an excellent album in 2008 entitled Songs from the big Tomato Of course we cant forget their battle with the X factor over the use of a band on the show using their name "The Risk" which our boys thankfully won, and lets face it folk, there can only ever be one band called "The Risk".Derek Delboy Shepherd / Jan 2019

TRACKLISTING: 01. I Don't Want To Know Your Name 02. Waiting At The Airport 03. Forget The Girl 04. Know The Truth 05. Don't Let Go 06. I Know A Girl 07. Nice People 08. Maxine 09. Whisky And Wine 10. Jobs For The Boys 11. Carrie Ann 12. Good Times 13. State Of The Union 14. Amount To Love 15. Listen To Me

Les personnes qui ont commandé cet article ont aussi commandé BANGLES, THE, BREADMAKERS, THE/THEE CHA CHA CHAS, CLASH, THE, DC10, ...

Format: CD

Disc Quantity: 1
Date: 01-02-2019
Référence : 524562
Disponibilité: EN STOCK

Prix : 13,75 EUR