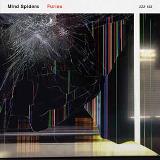 1 - MIND SPIDERS - FURIES - (LP)
DIRTNAP

The Furies are the ancient Greek Gods of vengeance andviolence," says Mark Ryan of the title of his latest album. "The Furies were tamed," he continues, "but in my story, they are waking up and the ancient chaotic ways are resurfacing."Ryan (The Marked Men, High Tension Wires, Radioactivity),alongside Peter Salisbury (Baptist Generals) on synthand Mike Throneberry (The Marked Men) on drums, leadthis modernistic, machine-like and cinematic version of thestory of the Furies and have churned out something furious inreturn; this is their most electronic album yet. Gone are anynotions of Ryans former project the Marked Men and its styleof winningly bombastic garage-pop. Since 2012s Meltdown,Mind Spiders have been perfecting an aggressive, relentless,frenetic and melodic style of punk that is a long, dark shadowof DEVO but carries something much more sinister in its jawsas it slinks its way through the ears, illustrated by their lone, intensified cover of Grauzones 1980 hit, "Eisbaer." Its a sound for the new dark ages, emboldened by urgency and sped along by some good old fashioned panic.For fans of DEVO, Grauzone, Kraftwerk, D.A.F., Brian Eno, The Cars, Television, New Order, David Bowie, Skinny Puppy, The Cure, Giorgio Moroder.

TRACKLISTING: 01. Outside 02. Never Like That 03. Ice Bear 04. Deserve 05. Shock And Repeat 06. Furies 07. No Ground 08. August

Les personnes qui ont commandé cet article ont aussi commandé L.A. WITCH, NILS, THE, REDUCED, YOUNG ROCHELLES, THE, ...

Format: LP

Disc Quantity: 1
Date: 26-01-2018
Référence : 509680
Disponibilité: EN STOCK

Prix : 20,25 EUR