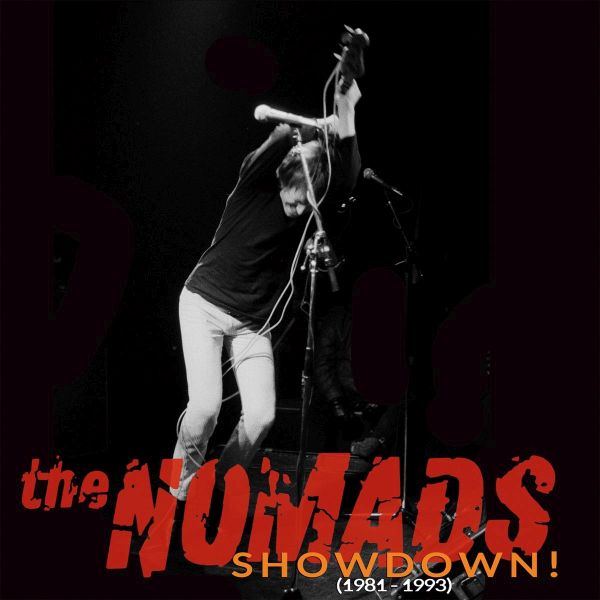 1 - NOMADS, THE - SHOWDOWN (1981-1993) - (LP)
BANG!

THE NOMADS, best rock n roll band ever from Sweden! Their reputation is worldwide known with fans in Europe, USA and Australia.This record full of singles and rarities from their period 1981-1993 was released in 1994 only on double CD format, and now finally sees the light on remastered deluxe edition. Triple LP with trifold cover, full of awesome photos, interviews texts, etc.Here we find their own tracks as well as amazing covers from such a wide range of artists... and it even includes the track Jeffrey Lee Pierce from The Gun Club wrote for The Nomads, as well as the cooperation of Johnny Thunders in the studio with them.A brutal exposure of the variety and extreme sound of this legendary and seminal band which is still alive and kicking and delivering killer records and concerts.Limited edition to 500 copies. Dont miss it, you have been warned.

TRACKLISTING: 01. The Way (you Touch My Hand) (pickard-duquet) 02. I'm 5 Years Ahead Of My Time (r. Evans-v.pike) 03. Lowdown Shakin' Chills (nomads) 04. Milkcow Blues (estes) 05. Rat Fink A Boo-boo (nomads) 06. Real Gone Lover (nomads) 07. Where The Wolf Bane Blooms (nomads) 08. Bangkok (a. Chilton) 09. Don't Tread On Me (k. Massengill) 10. She Pays The Rent (j. Conoliy) 11. 16 Forever (a. Shernoff-s. Kempner-r.friedman) 12. Call Off Your Dogs (p. Case-j.l. Pierce-j.soles) 13. Knowledge Comes With Death's Release (h. Ostlund) 14. Surfin' In The Bars (nomads-t. Jonsson) DISC #2: 01. Temptation Pays Double (h. Ostlund-t. Jonsson) 02. Swamp Gal (t. Bell) 03. Fire And Brimstone (l. Wray) 04. Beyond The Valley Of The Dolls (h. Ostlund) 05. My Deadly Game (h. Ostlund) 06. Wimp (j. Escovedo) 07. Psycho (g. Roslie) 08. Night Time (feldman-goldstein-gottehrer) 09. Boss Hoss (g. Roslie) 10. Rockin' All Through The Night(nomads) 11. Have Love Will Travel (r. Berry) 12. Showdown (i. Casanova) 13. Real Cool Time (stooges) DISC #3: 01. Sometimes Good Guys Don't Wear White (e. Cobb) 02. I'm A Ding Dong Daddy (j. Mccain) 03. Teenage Letter (r. Richard) 04. Red Cadillac And A Black Moustache (l. May-w. B. Thompson) 05. Driving Sideways On A Oneway Street (m. Fankenhauser) 06. You're Gonna Miss Me (r. Erickson) 07. Stranded On A Dateless Night (c. Jackson) 08. Big Sandy (b. Roberts) 09. This Ain't The Summer Of Love (krugman-bouchard-waller) 10. Frying Pan (d. Van Vliet) 11. Salvation By Damnation (h. Ostlund-t. Jonsson) 12. The Next Big Thing (a. Shernoff) 13. I Have Always Been Here Before (r. Erickson) 14. Cinderella (g. Roslie) 15. Motorhead (kilmister)

Les personnes qui ont commandé cet article ont aussi commandé CRAMPS, METEORS, THE, NEW BOMB TURKS, ...

Format: LP

Disc Quantity: 3
Date: 26-01-2018
Référence : 508182
Disponibilité: EN STOCK

Prix : 61,75 EUR