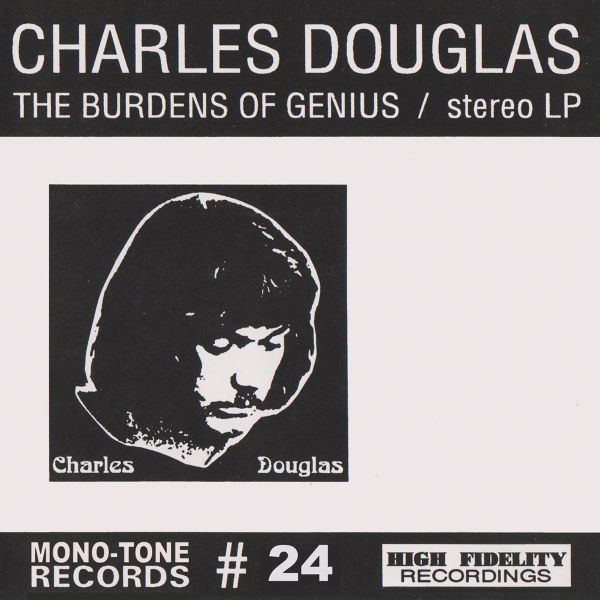 1 - DOUGLAS, CHARLES - THE BURDENS OF GENIUS - (LP)
MONO-TONE

"The best New York record you've never heard"! Had it not been for bad timing, mental illness, rampant drug abuse, and a penchant for burning bridges, Charles Douglas might be thought of today as a songwriter on par with Stephen Malkmus, Beck, Daniel Johnston, Robert Pollard, and other members of the indie-rock aristocracy! Playing all the instruments himself, recording in the basement of his parents' house in Allentown, Pennsylvania, his songs range from gleeful stoner anthems to deranged anti-folk to noisy pop to lo fi bubblegum. Five years after the reissue of The lives of Charles Douglas (featuring Maureen Tucker on drums!) and along with this summer release of an expanded 2 CD version of his Statecraft album, this first time on vinyl reissue should mark the world rediscovery of Charles Douglas genius!

TRACKLISTING: 01. Crest Of A Wave 02. Name 03. Girl (of The World) 04. Drivin' Around 05. The Rabbit Never Gets The Carrot 06. Suicide Note 07. Monkey Island 08. Dennis Wilson 09. Last Stand) 10. The Golden Age 11. Living In A Hole 12. Henry Lee 13. Prince 14. Go 15. Spiders And Snakes 16. Octopus (cease To Exist

Les personnes qui ont commandé cet article ont aussi commandé PRIZU, NICK, LULLIES, LES, ...

Format: LP

Disc Quantity: 1
Date: 17-11-2017
Référence : 507537
Disponibilité: EN STOCK

Prix : 15,00 EUR