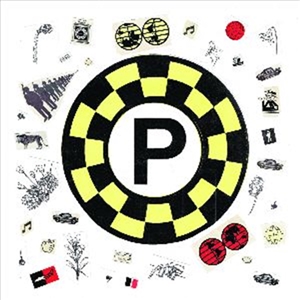 1 - PROTRUDERS - POISON FUTURE - (LP)
FEEL IT

"After four self-released cassettes, Montral's premier art-punk/neo-proto-punk band Protruders makes its vinyl debut with a 25-minute 12-inch of very groovy sounds. The sound is a bit clearer and maybe a little beefier-some of the noise gives way to a more relaxed and expansive approach. The psych quotient is higher. But the heart of the band is still beating for the sort of raw open-minded non-generic punk that once came from the likes of Rocket From The Tombs, Swell Maps, Dead Moon, Dancing Cigarettes, etc. "Fruit Hang" has a perfect mid-70s style garage feel-like a Boston pre-punk band tearin it up at the Rat! This could be the hit, kidz! Skronky sax gives "Hydrophytol" a kinda Hawkwind/no-wave feel. And dig "No Stone"-a slower one, catchy as hell-I swear it could pass for an outtake from the Saints circa 1978. Solid-another hit! At five minutes, the title track stretches things out a bit. This one has a definite Ubu/Voidoids vibe-nasty angular spazz-punk with a little more sax blat added. Very nice guitar stuff happening here. We get some weirdo HC action on "Stabilizer" and more hot guitar squiggles. "Tax 101" is maybe a "typical" Protruders song-that means good! "Wrong Way Sign," pushes things over the six-minute mark, with a strong psych-punk feel (Wipers?) and some totally swell rock-jam stuff at the end. Wow. This record is a significant step for the band and an impressive way to start their vinyl career as they gain the higher visibility they deserve. Most excellent!" -Eddie Flowers (Vulcher Magazine/The Gizmos)

TRACKLISTING: 01. Poison Future 05:00 02. Tax 101 02:19 03. Wrong Way Sign 06:13 04. No Stone 03:51 05. Hydrophytol 02:44 06. Stabilizer 01:43 07. Fruit Hang 02:53

Les personnes qui ont commandé cet article ont aussi commandé COWBOYS, THE, ...

Format: LP

Disc Quantity: 1
Date: 26-04-2019
Référence : 526801
Disponibilité: EN STOCK

Prix : 20,75 EUR