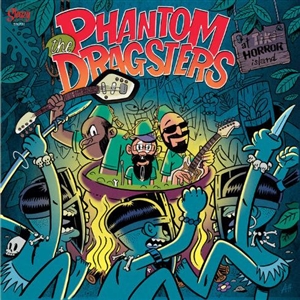 1 - PHANTOM DRAGSTERS, THE - AT TIKI HORROR ISLAND - (LP)
SLEAZY

From a hidden beach in Ourense comes this trio inspired by the instrumental sounds popularized by Dick Dale or The Ventures, among many others. With a retro aesthetic and a formation that is composed of guitar (Diego Stringbreaker) Bass (David Lone Crusher) and drums (Marcos Speed Fire), its sound is marked by the reverb in the guitars and a rough forcefulness !!!

TRACKLISTING: 01. Road To The Holy Mountain 02. Trip Of Kon-tiki 03. Tiki Horror Island 04. The Lost History Of Ku 05. Cryptic Eyes 06. Zombie Dance 07. The Attack Of God Hula 08. Escape From The Island 09. Dark Sea 10. Surf And Roll High School (bonus Track)



Format: LP

Disc Quantity: 1
Date: 13-07-2018
Référence : 516706
Disponibilité: EN STOCK

Prix : 15,00 EUR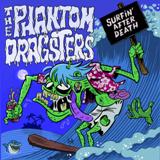 2 - PHANTOM DRAGSTERS, THE - SURFIN' AFTER DEATH - (7")
H

The new sensation inside the scene Surf / Instro-Surf national and European. This trio of Ourense (Galicia/Spain), just a year ago debuted in H-Records with a namesake 12" red vinyl with six tracks, which sold out in a few months thanks many concerts and very good reception in radio programs as "El Stano De Radio 3" in the Spanish national radio. This single called"Surfin 'After Death" represents the continuation of its first reference, with four new themes. Also note the exquisite cover made by the artist Roberto Arguelles.

TRACKLISTING: 01. Devil Race 02:48 02. Surfin' After Death 02:52 03. Kosmokretor (destination Venus). 04. Galaxy Quest.



Format: 7"

Disc Quantity: 1
Date: 01-02-2017
Référence : 500378
Disponibilité: EN STOCK

Prix : 10,00 EUR