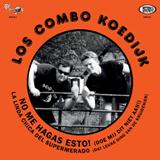 1 - COMBO KOEDIJK, LOS - DOE MIJ DIT NIET AAN! - (7")
BICKERTON

Behind Het Combo Koedijk you will find Mark Ten Hoor (The No-Goods) and Alfred Nooij, with collaboration from Peter Kroes (The Miracle Men, The Keefmen) and Arjan Spies (Mark & The Spies, The Kik), wow, that's quite a cv!

TRACKLISTING: 01. Doe Mij Dit Niet Aan! (no Me Hagas Esto!) 02. Dat Leuke Ding Van De Kruidenier ( La Linda Chica Del Supermercado)

Les personnes qui ont commandé cet article ont aussi commandé FABULIERS, KING JARTUR & HIS LORDS, POW POW POWS, SONNENBERGS, THE, ...

Format: 7"

Disc Quantity: 1
Date: 15-01-2017
Référence : 499864
Disponibilité: EN STOCK

Prix : 6,50 EUR