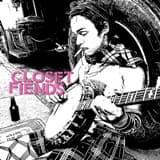 1 - CLOSET FRIENDS - CLOSET FRIENDS - (7")
FAT WRECK CHORDS

If youve been paying attention to Fat Mikes social media, you know that he and Sturgeon from Leftover Crack have been working with Sam, a homeless San Francisco youth, recording five original songs. The recording is now finished, and on 1/29, well be releasing Sams debut 7" EP, Closet Fiends! Sam Sadowski, aka Closet Fiends, was born and raised in Austin, TX and left her hometown only after "fucking up over and over again in school, home, court mandated rehab, etcetera," as she says. Traveling the country on freight trains, hitch hiking, squatting and generally transforming from a teenage punk to a homeless "crusty" anarchist traveler, she eventually landed in San Francisco without a guitar or dime to her name. But unbeknownst to Sam, her mother had uploaded a youtube video of her performing a song that would later catch Sturgeons attention, who then showed it to Fat Mike. As urgent as any suspense-thriller, they tracked Sam down and accompanied her to a music store where she picked up a banjo and proceeded to blow Mike and Sturgeons minds. Mike immediately offered to record Closet Fiends starting that very day.

TRACKLISTING: 01. Heroinsomnia 02. Bed To Medicine 03. Poppy Flu 04. Bridge Kindling 05. Ban Amulances

Les personnes qui ont commandé cet article ont aussi commandé ME FIRST & THE GIMME GIMMES, ...

Format: 7"

Disc Quantity: 1
Date: 29-01-2016
Référence : 485942
Disponibilité: 2/3 SEMAINES

Prix : 6,75 EUR