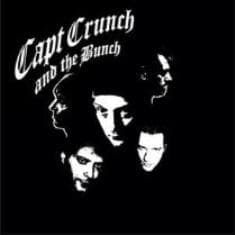 1 - CAPT. CRUNCH AND THE BUNCH - CAPT. CRUNCH AND THE BUNCH - (7")
AREA PIRATA

The band follow his Captain and his burning passion for 60's Beat influenced by primitive R&B.Their music is an explosive mix of working class rock'n'roll and fun-loving R&B.Rolling Stones meet Dr. Feelgood and Capt. Beefheart too, not forgetting the lesson of Italian 60's artists like Mr. Anima (aka Ghigo Agosti) or Rubi Strubi!!

Les personnes qui ont commandé cet article ont aussi commandé CHARLY 'UNGRY, I BARBIERI/I FENOMENI, ...

Format: 7"

Disc Quantity: 1
Date: 15-04-2014
Référence : 454955
Disponibilité: EN STOCK

Prix : 7,50 EUR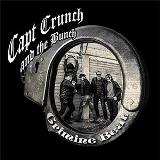 2 - CAPT. CRUNCH AND THE BUNCH - CRIME BEAT - (LP)
AREA PIRATA

Their debut album! Recorded fully analogue at Orfanotrofio Studio in Lorenzana (Pisa) - Italy. They got exactly the sound who were looking for, mixing the musical tastes of all the musicians involved. So they decide to share the vinyl in an Italian side (sung un their native language) and an English side. Inspired, funny and sarcastic their songwriting.Their heart is still beat for Dr. Feelgood, and we can see that from the artwork too, but English freakbeat, soul and R&B are part of the cocktail! Capt Crunch and the Bunch is still made from: Andrea 'Vipera' Salani (legendary drummer for CCM, I Refuse It, Fase Quattro), Frank Crunch (former vocalist for Fase Quattro and La Cattiva Esperienza), Emiliano "Er Biacco" Marianelli (lead guitar, ex-Toni Crimine and still The Bugz), bassist Francesco Falorni (still The Bugz and Reverberati) and finally Frankie Bo (rhythm guitar).

TRACKLISTING: 01. Chi Ti Credi Di Essere 3 55" 02. Tu Non Puoi 2 40" 03. Sputare Sul Format 3 04" 04. Beata Te 3 40" 05. Dormire Sulle Spine 4 13" 06. Nel Vento 3 58" 07. I Cant Get Away 2 33" 08. End Of Joy 2 12" 09. Revelations 1 59" 10. Dont Build Your Dreams Too High 2 29" 11. Bride Of Satan 3 45" 12. Pitch Black 3 39"



Format: LP

Disc Quantity: 1
Date: 01-06-2017
Référence : 502803
Disponibilité: EN STOCK

Prix : 17,00 EUR