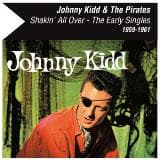 1 - KIDD, JOHNNY -& THE PIRATES- - SHAKIN' ALL OVER - (LP)
RUMBLE

It may be surprising that the Beatles were not the first British rock act to top the charts with one of their own compositions: that honor goes to Johnny Kidd & The Pirates, whose No. 1 "Shakin All Over" is also the first British-penned rock and roll hit to ever reach US top 20. Johnny, who wore an eye patch and calf length cowboy boots on stage to enhance his pirate image, was offered a contract by HMV in 1959 to record their first single, "Please Don't Touch", a song that 22 years later revisited the UK charts by heavy metal heroes Motorhead & Girlschool. Unfortunately, like many other labels of that era, EMI was never sure how best to deal with rock & roll success and though the group was among the finest rock combos of the early '60s, with a wild stage act that had them playing in pirate regalia, it never had enough consistent chart success to put it back in the top ranks of Britain's rock hierarchy, though they received a great deal of respect from the younger generation of rock & rollers. This LP collects all their early singles between 1959-1961, including all of Johnny Kidd's unforgettable hits.

TRACKLISTING: 01. Please Don't Touch 02. Growl 03. Steady Date 04. Feelin' 05. If You Were The Only Girl And I Were The Only Boy 06. You Got What It Takes 07. Yes Sir That's My Baby 08. Shakin' All Over 09. Restless 10. Magic Of Love 11. Linda Lu 12. Let's Talk About Us 13. Big Blon' Baby 14. Weep No More My Baby 15. More Of The Same.



Format: LP

Disc Quantity: 1
Date: 23-08-2012
Référence : 429875
Disponibilité: 2/3 SEMAINES

Prix : 17,00 EUR