1 - BAD MEXICAN, THE - DUE - (CD)
LIZARD

"The return of THE BAD MEXICAN is a new amazing trip. A stunning and original trip with different atmospheres. A kind of psych-jazz-rock sound, from the ecleticism of Mars Volta and Diablo Swing Orchestra and hypnotic disgressions to Morricone's cinematic tensions. 10 tracks beyond the boundaries of conventional"



Format: CD

Disc Quantity: 1
Date: 15-11-2014
Référence : 470355
Disponibilité: EN STOCK

Prix : 16,00 EUR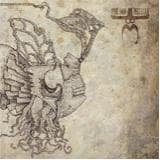 2 - BAD MEXICAN, THE - THE BAD MEXICAN - (CD)
LIZARD

The Bad Mexican is an alien creature, threatening, hardly knowable. A gang of bandits addicted to psychedelia, heavy-rock, experimentation, hypnotic sounds. More kraut-rock than mexican salsa, avant-prog-psych-rock near the Mars Volta or Sleepytime Gorilla Museum.



Format: CD

Disc Quantity: 1
Date: 15-07-2012
Référence : 429129
Disponibilité: EN STOCK

Prix : 16,00 EUR