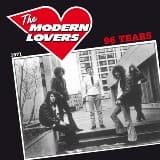 1 - MODERN LOVERS - 96 TEARS - (LP)
VINYL LOVERS

This is THE earliest surviving recording of the Modern Lovers! The 9 tracks found here (with the exception of "A Plea For Tenderness" recorded in 1973), were recorded live at Harvard University in the summer of 1971, while the band was still in its infant stages (having formed barely a year earlier in September 1970). Their first studio recording, a demo for Warner Bros, would not be made until that fall and their live Longbranch set wouldnt be recorded until April of 1972. It is also one of the only existing recordings to feature second guitarist John Felice, Richmans childhood friend (and the first official member of the Modern Lovers), who left the band before the recording of their first album. Jerry Harrison (later of the Talking Heads) plays keyboards and David Robinson (later of DMZ and the Cars) plays drums. Featuring rare tracks, like a rockin' version of Question Mark & The Mysterians "96 Tears".

TRACKLISTING: 01. Modern World 02. 96 Tears 03. A Plea For Tenderness 04. Old World 05. Walk Up The Street 06. Im Straight 07. Wake Up Sleepyheads 08. Dont Let Our Youth Go To Waste 09. Roadrunner

Les personnes qui ont commandé cet article ont aussi commandé CHIXDIGGIT!, GIANT SAND, THUNDERS, JOHNNY, ...

Format: LP

Disc Quantity: 1
Date: 24-02-2011
Référence : 416076
Disponibilité: 2/3 SEMAINES

Prix : 18,00 EUR