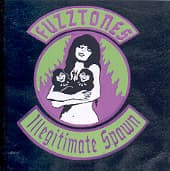 1 - VARIOUS (FUZZTONES TRIBUTE) - ILLEGITIMATE SPAWN 2 - (CD)
TWIST

The fuzztones were the band that dragged garage rock n roll kicking and screaming up to date. They are seriously cool. Pointy boots great hair, great clothes, great songs and great attitude. Before your very eyes ladies and indeed gentleman is a 50 track tribute, a compendium of like minded individuals bands of dark celler dwellers, of night creatures, the spawn of the fuzztones, the children, the brood awakened snarling and strumming and a beating of their very bones!

TRACKLISTING: 01. Doll Squad-bad News Travels Fast 02. International Playboys-action Speaks Louder Than Words 03. X.rayharpoons-charlottes Remains 04. Bastards Of Blues-ghost Clinic 05. Los Peyotes-me Nada 06. The Holdens-everything You Got 07. The Deadbillys-black Box 08. The Norvins-heathen Set 09. Prancing Ponies-tantric Pretender 10. Fiummy Lee- Ward 81 11. The Bullets-she Wicked 12. The Culpables-idol Chatter 13. Sick Rose-yeah Babe 14. Flight 13-what You Don Know 15. The Stingrays-the Thing 16. The Urges-skeleton Farm 17. Sextress-in Heat 18. The Defectors-look For The Question Mark 19. The Live Ones-blackout 20. The Hamburg Ramones-long Black Hair 21. The Powerknobs-me Tarzan You Jane 22. The Boss Martians-blood From A Stone 23. Big Bobby And The Nightcaps-brand New Man 24. Clark Nova Band-highway 69 25. The Headbangers-romiland 26. The Frantic Elevator-third Times The Charm. DISC #2: 01. Rudi And The Preachers-turn Me Out 02. Gonn-shame On You 03. Rudi Prutrudi And Martha Quinn Mtv Interview 04. Ian Astbury-cheyenne Rider 05. Headless Horsemen-cellar Dweller 06. Harla Horror-at The Fuzztone Bar 07. Men In The Moon-highway 69 08. Lynx Lynx-get Naked 09. Springhead Motorshark-rock On 18 10. Punk Rockjanitors-just Once 11. Carroneros-cadaver Esquizito 12. What...for?-bad News Travels Fast 13. Hotrod Surfers-heathen Set 14. The Grimm Fairys-theye Gonna Take You Away 15. Hangee V- Hallucination Generation 16. Magnificent Brotherhood-all The Kings Horses 17. Los Zixs-johnson In A Headlock 18. The Cheeks-rise 19. Motorama-i Never Knew 20. The Gravestones-this Sinister Urge 21. Teko-bad News 22. Quasi Men-hurt On Hold 23. The Fiends-romilar D 24. Queensgang Orchestra-she Wicked

Les personnes qui ont commandé cet article ont aussi commandé BLACK JASPERS, THE, MARKED MEN/THIS IS MY FIST, GOODNIGHT LOVING, ESTRANGED, THE, ...

Format: CD

Disc Quantity: 2
Date: 01-12-2009
Référence : 404150
Disponibilité: EN STOCK

Prix : 16,50 EUR