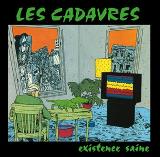 1 - CADAVRES, LES - EXISTENCE SAINE - (LP)
DIRTY PUNK

28 years after its original release on Forbidden Records, Dirty Punk Records is re pressing the first Cadavres record, on vinyl, at last, And what an album !! After some EPs and compilations during the 80's, the band has found a new sound and recorded those 11 tracks in 1989. Existence Saine is the beginning of some cult album series for the band, which is gonna spread its joy and good mood for decades on. Titles such as 7h23 , Existence Saine , La Fin ou Les salauds vont en enfer sure will remain in the Pantheon of French punk rock.As for the Cadavres albums which urderwent the Dirty Punk treatment, this one is being re pressed with a fold cover and green vinyl.

Les personnes qui ont commandé cet article ont aussi commandé GUN CLUB, THE, CONTINENTAL, OI POLLOI/TOKIK EPHEX, GANG GREEN, ...

Format: LP

Disc Quantity: 1
Date: 27-10-2017
Référence : 508219
Disponibilité: EN STOCK

Prix : 14,25 EUR