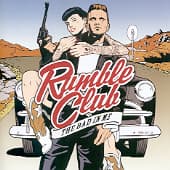 1 - RUMBLE CLUB - THE BAD IN ME - (CD)
WOLVERINE

Greasers unite! Psychobilly Rockers raise your drinks! Punks stand up and shout! Country Rebels start to rumble! This is heavy, gritty bar brawling rock and roll, there is a lot of pickin', strummin' and bendin'. The beats are just as you would expect: fast and furious. The songs are about gambling, murder, the devil and leaving town. While the band hits on some roots rock vibes with punk rock and psychobilly overtones the most striking feature of Rumble Club is the lead vocalist. On several occasions Jack Coray delivers a dead on Johnny Cash. He can bring it in tight and low or bellowing and voracious, adding to the maddeningly fast rhythms laid down by the rest of the band. And get this, hes also the lead guitarist! His pickin style has been called a cross between Carl Perkins, Junior Brown and Duane Eddy,...fricken' incredible! Joined by Rhythm guitarist Jay "Chewy" Clark, Bassist Kyle Curtis and Drummer Mark Santoro They've got a tight sound, and are very aggressive in their approach to a well defined and scrutinized genre. Fans of fast paced country doused rockabilly, psychobily and even roots rock should check out the power of the Rumble Club.

Les personnes qui ont commandé cet article ont aussi commandé 6 FEET DOWN, HEADLESS HORSEMEN, THE, ...

Format: CD

Disc Quantity: 1
Date: 17-07-2009
Référence : 401381
Disponibilité: 2/3 SEMAINES

Prix : 8,75 EUR