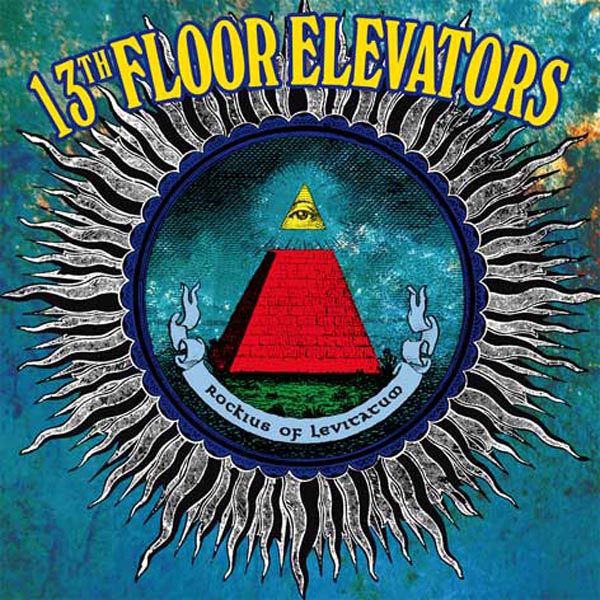 2 - 13TH FLOOR ELEVATORS - ROCKIUS OF LEVITATUM - (LP)
VINYL LOVERS

180 gram LP. To fully understand and appreciate a band like the 13th Floor Elevators, one had to see them play live, preferably more than once-the reason being that no two Elevators shows were ever alike, ranging from brilliantly euphoric to unbelievably catastrophic. Of course, the unevenness of their performances was due to one small but powerful thing called LSD.which the band took in copious amounts prior to each show (often charitably passing it out to members of the audience as well). For the Elevators this was a way of life.for which they (particularly lead singer and guitarist Roky Erickson) would notoriously soon pay. This collection of live tracks gives those of us who werent there during those halcyon days of psychedelia, a taste of just what lofty heights (and hellish depths) the Elevators were capable of reaching. The performances are taken from three sources: "Roller Coaster", "Youre Gonna Miss Me" and "Tried to Hide" from a rockin appearance on a local Dallas / Ft. Worth television show in the spring of 1966, "Dont Fall Down", "Kingdom Of Heaven", "She Lives In A Time of Her Own" and "Ive Got Levitation" from a notoriously shambolic gig in Houston in 1967, and the remaining eight tracks from a series of stellar performances at San Franciscos Avalon Ballroom in autumn of 1966.

TRACKLISTING: 01. Roller Coaster 02. You're Gonna Miss Me 03. Before You Accuse Me 04. Tried To Hide 05. Don't Fall Down 06. The Word 07. I'm Gonna Love You Too 08. You Don't Know 09. Everybody Needs Somebody To Love 10. Splash 1 11. Monkey Island 12. Kingdom Of Heaven 13. Fire Engine 14. She Lives In A Time Of Her Own 15. I've Got Levitation

Les personnes qui ont commandé cet article ont aussi commandé BARRERACUDAS, SPITS, SULTAN, MARK, SEGALL, TY, ...

Format: LP

Disc Quantity: 1
Date: 10-11-2011
Référence : 422458
Disponibilité: EN STOCK

Prix : 19,50 EUR
3 - 13TH FLOOR ELEVATORS - THE 13TH FLOOR ELEVATORS - (LP)
INTL ARTISTS

TRACKLISTING: 01. You're Gonna Miss Me 02. Roller Coaster 03. Splash 1 04. Reverberation (doubt) 05. Don't Fall Down 06. Fire Engine 07. Thru The Rhythm 08. You Don't Know 09. Kingdom Of Heaven 10. Monkey Island 11. Tried To Hide



Format: LP

Disc Quantity: 1
Date: 30-11-1999
Référence : 511675 NEW
Disponibilité: 2/3 SEMAINES

Prix : 20,50 EUR