1 - HOP LA, THE - LE COUP DE LAPIN - (CD)
KICKING

The new Opus of The HOP LA! is available now ! It is stamped Kicking Records. This third part of the THL saga entitled "Le coup du lapin."We can listening in this CD good riffs, energetic rhythm, melodic and incisive singing, and so much chorus! In short, good Punk-Rock.

TRACKLISTING: 01. Boum ! 02. No Life 03. On N'y Croit Pas 04. J'ai Pas De Coeur 05. Je Me Marre 06. Je M'envole 07. Cro-magnon 08. Pourquoi Moi 09. Le Prix De La Vie 10. Toujours Vivant 11. Euro Zros 12. Les Toiles



Format: CD

Disc Quantity: 1
Date: 15-06-2013
Référence : 443546 NEW
Disponibilité: EN STOCK

Prix : 13,00 EUR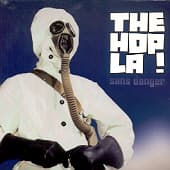 2 - HOP LA, THE - SANS DANGER - (CD)
KICKING

2nd album by this French punk rock band, which brings in mind The Clash. Featuring members of French cult band Les Sheriff.

Les personnes qui ont commandé cet article ont aussi commandé ME FIRST & THE GIMME GIMMES, ...

Format: CD

Disc Quantity: 1
Date: 01-11-2008
Référence : 391980
Disponibilité: EN STOCK

Prix : 13,00 EUR