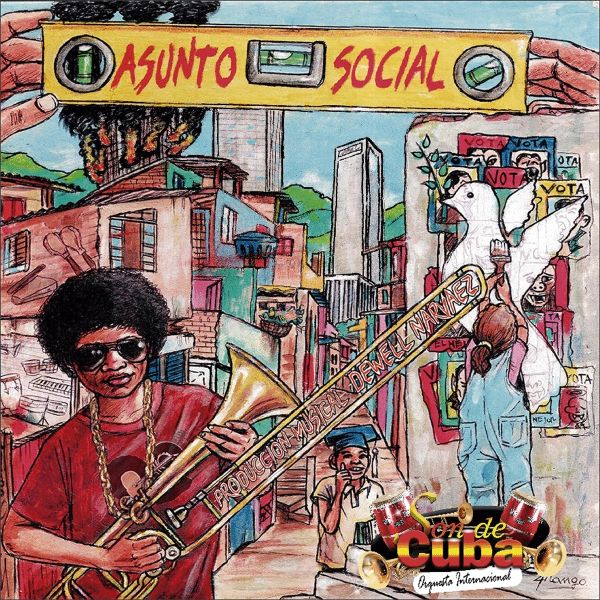 1 - SON DE CUBA ORQUESTA INTERNATIONAL - ASUNTO SOCIAL - (LP)
HIT MUSICAL

The trombonist Dewell Narvaez appears again in the music scene, this time as musical producer of the album Asunto Social (Social Matter) recorded by the Son De Cuba International Orchestra. The director of the legendary Narvaez Orchestra, stands out in the performance of the Puerto Rican cuatro in the song "Guajira Con Amor" and playing the trombone in the "Canguil a la SDC" also. On the other hand, two other notable members made their contribution: Jose Mangual Jr. who plays the maracas and the guiro in all the songs and participates in "Canguil to the SDC" finale. And the vocalist Renzo Padilla, who sings Pa 'La Batalla.Son de Cuba is an orchestra that was born in a neighborhood of the city of Pereira, Colombia called Cuba. Under the direction of William Cano Tabares, has undertaken a musical work according to the sound of the Salsa brava, thinking of the dancer, without neglecting the great value of daily social content in lyrics, as well as themes around the rumberos environment. Asunto Social offers in its songs a diverse menu of messages. The song Asunto Social, which gives title to the album, is a sound painting that invites the change of attitude of society. "Mujer Ajena" (Another's Woman) is a declaration of forbidden love feeding impossible illusions. "Salsa al Barrio" is a citizen complaint of those who face harsh daily life and invite reflection. "Melodioso" dedicated to the businessman of music concerts Edgar Berrio. "Barco a la deriva" (Ship Drifting) is the manifestation of nostalgic love memories. "Guajira con Amor" (Guajira with Love) is a creation of William Cano for his wife Paula. "Pa 'La Batalla" (Into The Battle) is dedicated to Salsa collectors and the musical meetings that are organized among them. "Canguil a la SDC" is a reinterpretation with new elements, in its arrangements and disposition of horns.

TRACKLISTING: 01. Asunto Social 02. Salsa Al Abrrio 03. Melodioso 04. Mujer Ajena 05. Barco A La Deriva 06. Guajira Con Amor 07. Pa La Batalla 08. Canguil "a Lo Sdc"



Format: LP

Disc Quantity: 1
Date: 24-05-2019
Référence : 533763
Disponibilité: EN STOCK

Prix : 27,25 EUR